NIE in Spain
/

/

NIE in Spain
NIE in Spain
The NIE, foreigners' identity number, is the number assigned in Spain to EU foreigners, whether resident or not, who have to carry out any activity with legal, economic or social value.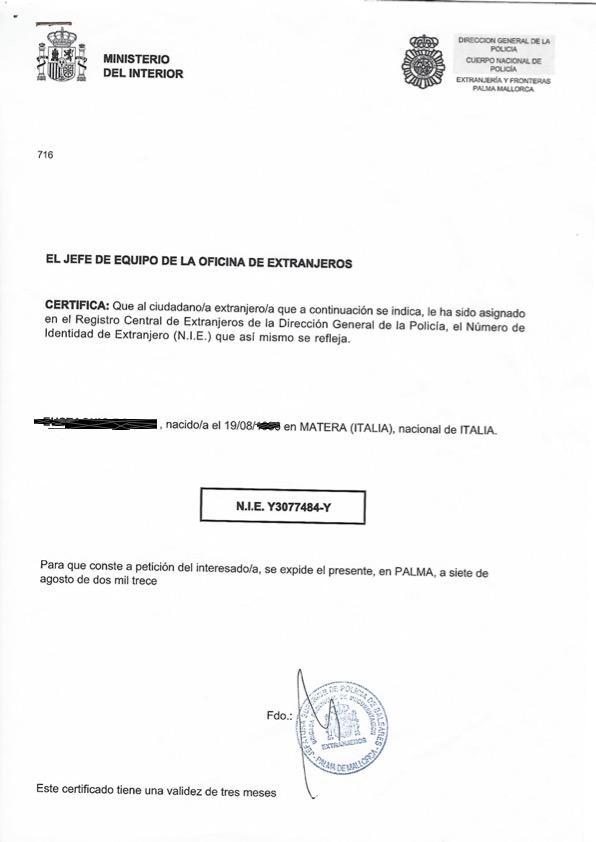 What is the NIE?
The NIE is a personal, unique and exclusive number assigned to all foreigners, both EU and non-EU citizens for identification purposes. The purpose of the NIE is to be able to identify foreigners. Like the DNI of Spanish citizens, it consists of one letter, seven numbers and a verification code.
It is an alphanumeric number of 9 characters, with 2 letters, one at the beginning and one at the end, and 7 numbers, which identifies a natural person uniquely and forever.
There are many occasions when a resident or non-resident needs to use the NIE. From opening a bank account, buying or renting a property, setting up a company or buying or selling shares/units. *
The attribution of the Spanish NIE in terms of the tax code in Italy does not imply a change of residence in Spain and does not imply tax obligations in Spain. However, if the activities carried out in Spain involve a tax interest, as in the case of the rental of housing or the purchase of real estate, the NIE number must be communicated to the Spanish authorities, which are usually represented by the tax office.
In this case, the NIE has a dual function and also becomes a NIF, i.e. a tax identification number, the equivalent of the Italian tax code.
How to obtain the NIE
Foreigners who have relations with Spain, whether or not they are resident in Spanish territory, can apply for a NIE by presenting it at the Spanish Police or Civil Guard, at the Oficina de Extranjería, at the Police Headquarters or, abroad, at Spanish consulates.
Our office in Italy is in charge of submitting applications throughout Spain and offers the necessary services for the application and assignment of the NIE for Italian citizens, without them having to travel personally to Spain and/or to the competent bodies for its issuance.
Since 2020, applying for a NIE has become a complex practice. Making an appointment to submit the application has become an arduous task, so we recommend delegating TRAMITE ITALIA to be your intermediary.
Foreigners who have relations with Spain or who wish to reside in our country for a period of time, even if their residence is in another country, must apply for the NIE in person (in the event that a third person submits the application, this person must be duly accredited). This can be done through the Directorate General of Police or directly through Spanish consular offices abroad. If the foreigner is already in Spain, he/she can apply for it at the Comisaría General de Extranjería y Fronteras.
What documents are necessary to obtain a NIE- Blanco.
A complete and valid passport. If your passport has expired, you must submit a copy of your passport and the renewal application.

Power of attorney form

Module ex-15
What should I do if I lose my NIE?
If your NIE is lost or stolen, you should apply for a copy as soon as possible. The application should be made at the immigration office or by going to a police station.
A report must be filed with the police or the Guardia Civil, which is an indispensable document as proof to apply for a copy of the NIE.
An original passport or identity card and three passport-size photographs must be submitted with the complaint.
What is the validity of the NIE?
The NIE, commonly known as NIE blanco, is a document with temporary validity.
In general, the NIE is only valid for three months, as it is a certificate intended for foreigners who do not intend to reside in Spain for a long period of time, but only want to spend a short period of time or carry out a specific act with fiscal relevance.
However, in the case of foreigners who need to reside in Spain for more than three months (for a work contract, to follow a course of studies, to carry out a paid activity), they will have to apply for the CUE, commonly known as the green NIE.
Of course, Tramite Italia can help you in any way with the Spanish authorities.